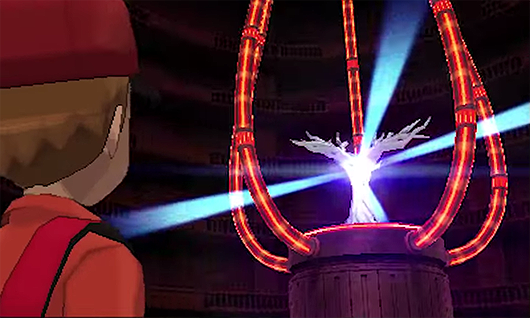 The Admins will clear the room, and you'll be left alone. At this point, before moving, you may want to take this opportunity to save your game. You'll also want to make sure you have a decent amount of Poké Balls (any kind will do, but some will obviously be more effective than others). Quick Balls, which are bought at the Coumarine City Poké Mart, and Dusk Balls, which are bought at the Cyllage City Poké Mart, are good options. Honestly, even Great Balls and Ultra Balls should do just fine.
Whenever you're ready, with your sufficient Poké Balls, your game saved, and your Pokémon healed, move closer to the machine to activate a cutscene. The Legendary Pokémon will awaken, and you'll immediately go into battle with it!
The Legendary Pokémon must be caught before you can advance through the storyline. If you knock it out or run, you will have to keep battling it until it's caught. Thankfully, its catch rate is much higher than most Legendary Pokémon, meaning it isn't very difficult to catch.
For this reason, I would highly recommend you do NOT use your Master Ball here.
If you are playing Pokémon X
In Pokémon X, you will have to battle and catch Xerneas L50.
Legendary Pokémon
Pokémon
Type
LVs
Notes
Xerneas

Fairy

50
Pokémon X only.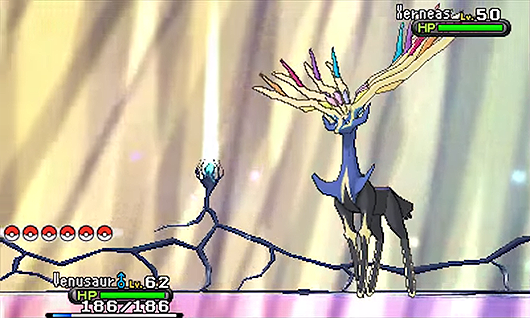 Before attacking, you may want to toss a Quick Ball if you have one; the chances of catching it this way aren't too bad, and you could get lucky! If not, just bring down its health as much as possible, maybe putting it to sleep or paralyzing it if you can, to make things easier.
You'll want to watch out for Xerneas's Moonblast, which is by far its strongest move. On top of being STAB, Xerneas has the ability Fairy Aura, which boosts the power of Fairy-type moves (including Moonblast). Geomancy is another dangerous move; even though it must charge up before being used, it will effectively boost Xerneas's Special Attack, Special Defense, and Speed by 2 stages each. Yikes! If it uses this too much, you can choose to knock it out or run so that its stats reset. This will also reset its HP, PP, and remove any status conditions, though, so only do this if necessary.
If you are playing Pokémon Y
In Pokémon Y, you will have to battle and catch Yveltal L50.
Legendary Pokémon
Pokémon
Type
LVs
Notes
Yveltal

Dark

50
Pokémon Y only.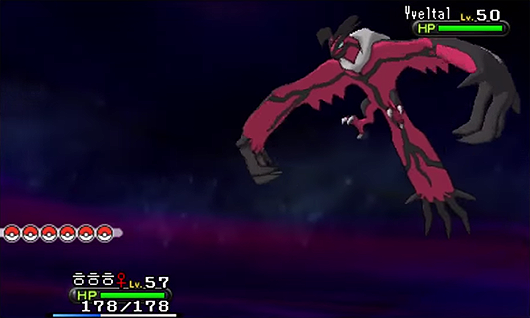 On the first turn, I'd recommend trying your luck with a Quick Ball if you have one, as that has a surprisingly decent chance of catching it right off the bat. If not though, you'll just have to weaken it like normal, taking out as much health as possible and perhaps putting it to sleep or paralyzing it, if you can.
Yveltal's strongest attack is Dark Pulse; in addition to being STAB, it is boosted by Yveltal's ability, Dark Aura, which increases the power of Dark-type moves. It also has the weaker Snarl which is also boosted by this ability. Another move to watch out for is the Flying-type move Oblivion Wing, which is rather strong, and restores its health by 75% of the damage it deals. This can be pretty inconvenient when trying to keep its health low to catch it.
After Capturing the Legendary Pokémon
When Xerneas (Pokémon X) or Yveltal (Pokémon Y) is captured, you'll have the choice to add it to your team. It's quite strong, so it's certainly not a bad idea, but it's up to you!
After that, some intense plot will happen!
Do not continue on if you're just reading through, and don't want key spoilers about the story!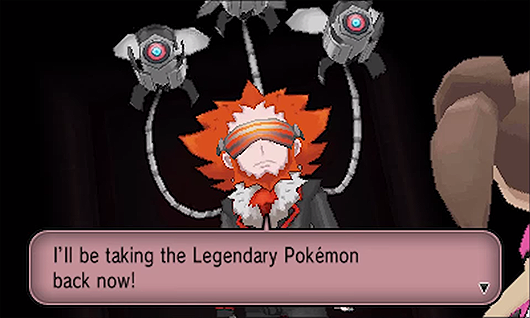 Serena and Shauna will enter, and praise you for stopping the ultimate weapon. However, before long, Lysandre will join you as well, covered in some very strange equipment. He will express disappointment in the Legendary Pokémon, but nevertheless say he must reclaim it so he can use the ultimate weapon. He will attempt to do so by battling you one last time, this time being in possession of his very own Mega Ring and Mega Stone.
You'll immediately go into battle, without a chance to save, but your team (including the Legendary if you chose to use it) will be fully healed. If you added the Legendary Pokémon to your team, you will send it out first.
Lysandre will use a Mienshao L49, a Honchkrow L49, a Pyroar L51, and a Gyarados L53. His team is even stronger this time, though if you have Xerneas on your side, the first half of his team is easily taken out with Moonblast. Either way, both Xerneas and Yveltal can do pretty well against his team.
His Mega Stone happens to be attached to the Gyarados, so when he sends it out, it will Mega Evolve into Mega Gyarados! Mega Gyarados is a Water/Dark-type, and has a whole ton of Special Defense and Attack. Its Defense isn't too shabby either, so you'll want to hit very hard to get past its bulk. Keep in mind that if you have Xerneas, it may be able to take it out in one hit with Moonblast, especially after a boost with Geomancy.
After he is defeated, Lysandre will be very angry, and will still refuse to give up on the ultimate weapon. After some dialogue about it and the future, he will state that there is still enough power left in the ultimate weapon to use it just once. You and your friends will rush out as Lysandre activates it. Sit back and watch as the cutscene ensues.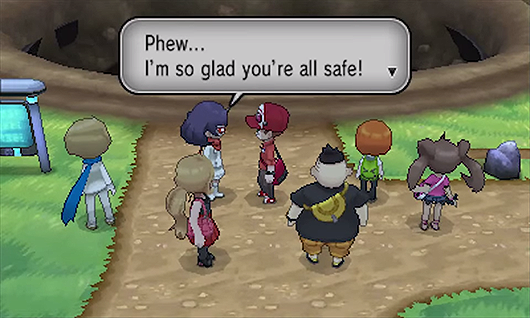 After the weapon is used, it will leave a gaping hole in the ground, but you and your friends escape safety in time. Everyone will meet up together outside, and after some more dialogue, Shauna suggests you all start over from Anistar City where you left off, and eventually, everyone will leave.
Soon after, though, AZ will walk up, and talk a bit more about the man and the Pokémon from 3,000 years ago.
Once he leaves, you'll be free to walk around again. At this point, Team Flare is dealt with, and everything should be back to normal. Which means it's time to return to Anistar City, as Serena suggested, and proceed over to Route 18! Don't worry about those knocked over houses in Geosenge Town, I'm sure they'll be just fine...