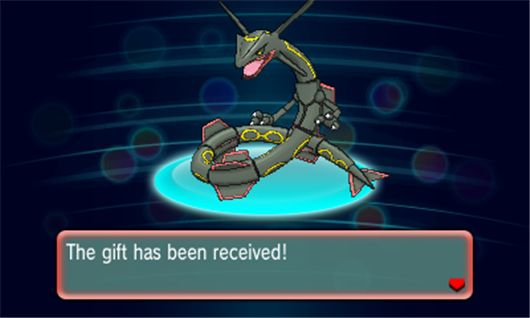 NOTE: There is an update to this post. The original post is shown directly below, with the update marked beneath it along with a video.
---
Good news: there's now a special Shiny Rayquaza Wi-Fi Event for North American versions of Pokémon Omega Ruby and Alpha Sapphire! Being available through the Nintendo Network (Wi-Fi) means that you don't need a serial code or anything special to get it; all you need to do is select Mystery Gift from the menu and then select the option to receive a gift from the internet and you'll be able to receive a special Shiny Rayquaza.
This Shiny Rayquaza comes with the move Dragon Ascent, which allows it to Mega Evolve into Mega Rayquaza during battle. It also has Dragon Claw, Extreme Speed, and Dragon Dance. It comes at level 70 and holds a Dragon Fang as its item. Its nature appears to be randomly generated.
No word yet on when this event expires in North America, but you'd better get it sooner than later. In Australia and New Zealand, until the end of the month, you can get a serial code at participating EB Games stores for a Shiny Rayquaza. As for Europe, it is not yet available via the Nintendo Network, but may be available by other means, as no announcement has been made at the time of this post, even for North America.
---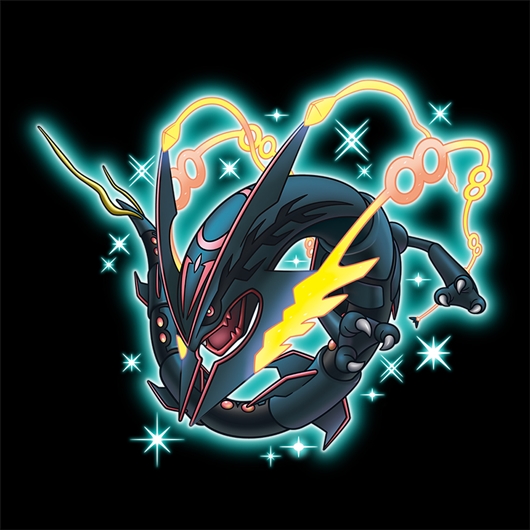 UPDATE: There's now been an official update on the Pokémon website, with confirmation that this Wi-Fi giveaway lasts until September 14th in North America, so you'll have plenty of time to pick it up.
Additionally, details for this Pokémon have been announced for other countries. In the UK, it will be available as a serial code distribution, and you can pick up a serial code at participating Smyths stores from August 24th until September 20th. In Germany, it will also be available as a serial code distribution through participating retailers, running from August 31st until September 28th. No information has been given for any other country, and they are not (yet) listed on the promotional page for Ancient Origins.