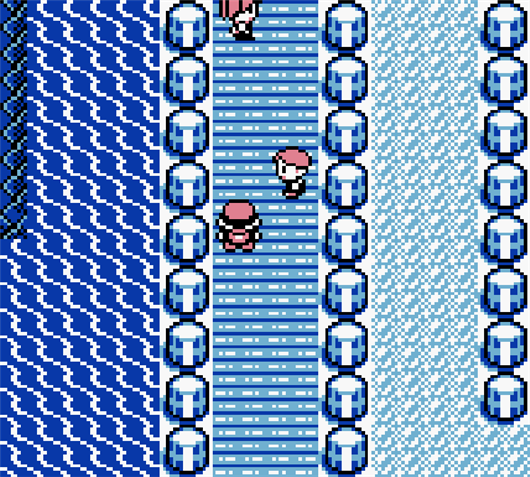 Route 24 is a small route that mostly consists of a bridge known as Nugget Bridge, which has six Trainers standing in a row. If you defeat them all, you get a prize at the end! After that, there are new Pokémon to catch, and another, longer route with more Trainers to battle.

Face the Mew-sic! Route 24 and Route 25 are involved with a well-known exploit used to legally find and catch the Legendary Pokémon, Mew. In order for it to work, you have to trigger battles with specific Trainers under specific circumstances. So, if you are interested in getting Mew, don't battle these Trainers just yet: the Jr. Trainer west of Nugget Bridge (necessary only to get Mew this early in the game), and the Youngster on Route 25 who uses a Slowpoke. A guide on how to do this glitch and encounter Mew can be found right here.
Wild Pokémon on Route 24
Pokémon
Type
LVs
Notes
Pidgey

Normal

12-13RB
13, 15, 17Y
Uncommon.RB
Common.Y
Pidgeotto

Normal

17Y
Very rare.Y
Weedle

Bug

Poison

7R
Uncommon.R
Kakuna

Bug

Poison

8R
Uncommon.R
Caterpie

Bug

7B
Uncommon.B
Metapod

Bug

8B
Uncommon.B
Oddish

Grass

Poison

12-14R
12, 14Y
Uncommon.R
Common.Y
Bellsprout

Grass

Poison

12-14B
12, 14Y
Uncommon.BY
Venonat

Bug

Poison

13, 16Y
Uncommon.Y
Abra

Psychc

8, 10, 12RB
Uncommon.RB Flees from battle on the first turn using Teleport.

OddishRY and BellsproutBY both shape up to be very solid Grass/Poison-types if you didn't start with BulbasaurRB or don't plan to use BulbasaurY. Abra is rather tricky to catch since it Teleports away on the first turn – putting it to sleep (Sing, Sleep Powder, etc.) makes catching it a little easier.
The Trainers waiting on Nugget Bridge get progressively more tough, but you can run right back to the Pokémon Center between fights.


Bug Catcher
Caterpie L14, Weedle L14


Lass
Pidgey L14, Nidoran♀ L14


Youngster
Rattata L14, Ekans L14, Zubat L14


Lass
Pidgey L16, Nidoran♀ L16
Careful, this next Trainer's Mankey is pretty rough! Its Karate Chop will almost always result in a Critical Hit.


Jr. Trainer♂
Mankey L18
When you reach the final Trainer, he will award you with a Nugget, which you can sell for a lot of money. Afterwards, though, he will try to recruit you into Team Rocket! After you refuse (no, you don't actually have a choice), he will battle you as well.


Rocket
Ekans L15, Zubat L15
To the west is a grassy path with the final battle of the route. (Remember not to battle this guy right now if you're planning to go after Mew early in the game!)


Jr. Trainer♂
Rattata L14, Ekans L14
Just north, you can pick up TM45 (Thunder Wave). This is a great move for crippling your opponent, or making it easier to catch wild Pokémon.
If you're playing Yellow version, there is also a guy here who will give you a Charmander L10! Charmander is a great Fire-type, especially since its final evolution can use Fly in Yellow version, so train it up and use it if you'd like. (It's fairly easy to train in the nearby grass, thanks to all the Grass- and Bug-types.)
Click below to continue east into Route 25!