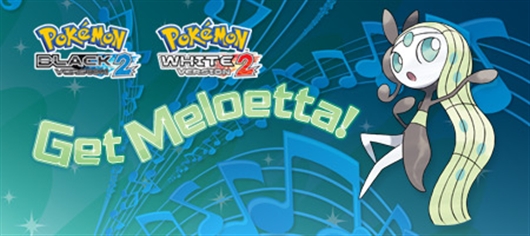 It's now March, and you know what that means, right? It means you'll soon be able to get your hands on the Mythical Pokémon, Meloetta, of course!
As previously reported, Meloetta will be available in the US at participating GameStop stores starting March 4th and in Canada at participating EB Games stores starting March 9th. They'll be available in those stores until March 24th, so you have nearly three weeks of time to pick up Meloetta on Pokémon Black, Pokémon White, Pokémon Black 2, and Pokémon White 2. Yes, that's right: it's available on all Generation V versions!
Not only that, but Meloetta is available elsewhere in the world as well! You can click on any of the linked countries below to view more details about the distributions there.

This Meloetta comes at level 50, knows the moves Close Combat, Teeter Dance, Psychic, and Round, and has the Serene Grace ability. It comes in its Aria Forme, although you can change it into its Pirouette Forme by using its signature move, Relic Song, in battle. The change will last only for the duration of the battle, but it is a nice way to shift Meloetta's strategy, as it changes from a Normal/Psychic-type to a Normal/Fighting-type instead. How does Meloetta learn Relic Song? All you need to do is take it to Café Sonata in the Narrow Street of Castelia City and talk to the musician in there to teach Meloetta that move.
Additionally, North American Pokémon players can log in to the Pokémon Global Link starting March 7th to pick up an exclusive Meloetta-themed C-Gear skin for Pokémon Black 2 and Pokémon White 2, as well as a special Pokémon Musical act: Meloetta Musical. Live outside of North America? You can still get the Meloetta C-Gear and Musical event, but you will have to wait until March 28th to do so instead.