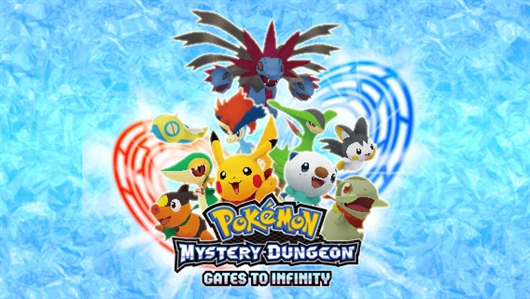 Can't wait to play the newest game in the Pokémon Mystery Dungeon series, Pokémon Mystery Dungeon: Gates to Infinity? Or perhaps you're just on the fence about coughing up the MSRP of $34.99 to buy the game? Well, either way, from March 7th to March 24th, those of you in North America can download a free demo of Pokémon Mystery Dungeon: Gates to Infinity from the Nintendo 3DS eShop!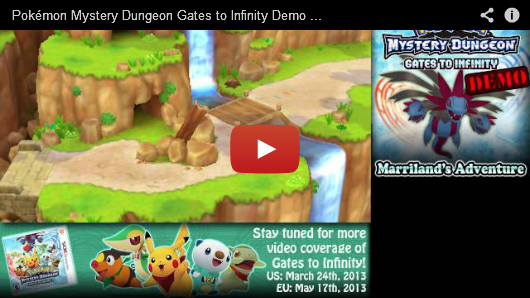 The style of demo is very interesting in the fact that you actually start a new game, just like the retail version of the game, and are able to play through the first several dungeons, as opposed to being thrown into a random scenario or two to evaluate the gameplay. Better yet, when you buy the game once it is on sale (either at retail stores or through the Nintendo 3DS eShop), you can pick up right where you left off in the demo, as it will carry over your save data along with your stats and items! That's very convenient, because you don't have to worry about getting attached to your team only to have to start fresh.
You can play the demo version 30 times total before you'll be unable to play it again. Putting your 3DS into sleep mode by closing the screen is a way to make the most out of your play limit, although with the game being released only two and a half weeks away, you probably won't be hitting that limit beforehand.
The game is set to be released on March 24th in North America, May 17th in Europe, and May 18th in Australia and New Zealand. No word yet on when the demo will be available outside of North America, but I would guess probably sometime around late April to early May.
---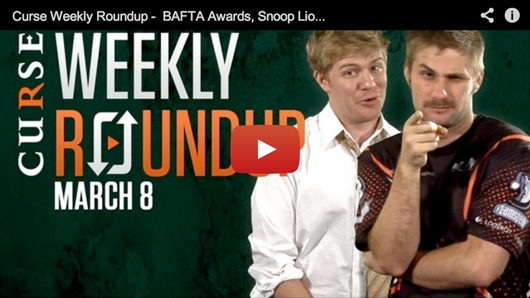 Also be sure to check out this week's Curse Weekly Roundup!