Celadon City is the busiest city you've visited yet, so let's cut to the chase!
As soon as you enter the city, you'll spot the Pokémon Center. Visit it if your Pokémon need some healing.
Celadon Mansion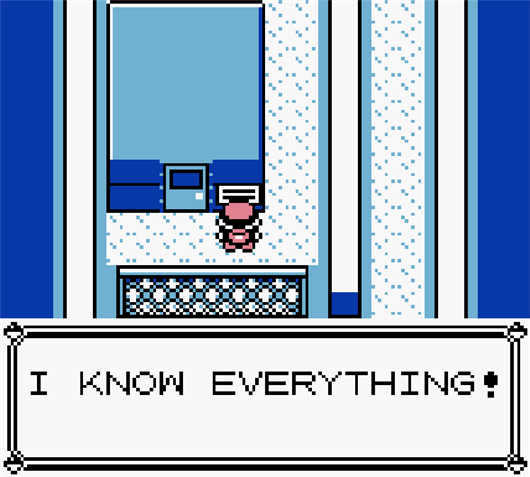 After that, you may want to follow that path to the right, heading behind the Pokémon Center. Back here, keep going west and you'll find an opening in the bushes that leads to the back of a giant building. Enter it, and keep following the stairs until you get to a small room with a man who apparently knows everything. There are tips about connecting with other players in the back, but even more importantly, there's a Pokémon just sitting on the table! It's a free Eevee L25, which can be picked up even if your party is full (it'll just go to your PC).
Eevee is a very special Pokémon that can evolve into many different types. In Red, Blue, and Yellow, it can evolve into Vaporeon with a Water Stone, Jolteon with a Thunder Stone, or Flareon with a Fire Stone. Depending on what type your team is missing, you may want to evolve this Eevee into one of them and use it. (All three Stones can be bought at the Department Store in town, which is detailed below!)
Continuing west of the Pokémon Center, you'll find the front of the same giant building, called the Celadon Mansion. On the third floor is the GAME FREAK team; after you've completed your Pokédex, you can return here and talk to the guy in the back.
Other than that, there's not much of interest in the Celadon Mansion.
Department Store
Further west is the biggest Pokémon Mart ever! Actually, this one is known as a Department Store, which has multiple floors, full of items that Pokémon Marts don't usually sell. You can jump to whatever floor you want by using the elevator to the far west.
2F: Trainer's Market
On the second floor is your typical Trainer items (left clerk), as well as TMs (right clerk). The TMs contain the following moves:
| | | | | | | | | |
| --- | --- | --- | --- | --- | --- | --- | --- | --- |
| TM32 | TM33 | TM02 | TM07 | TM37 | TM01 | TM05 | TM09 | TM17 |
| Double Team | Reflect | Razor Wind | Horn Drill | Egg Bomb | Mega Punch | Mega Kick | Take Down | Submission |

Reflect is pretty useful; it puts up a barrier that doubles your Defense. Unlike later generations, it doesn't fade after a certain amount of turns, but it also won't stay in effect for other Pokémon in your party if you switch.
All of these TMs are found on the floor somewhere during your journey. Keep in mind TM02 and TM07 are actually found very soon, so unless you want to teach them to multiple Pokémon, they probably aren't worth buying.

More Bang For Your Buck! It's no longer worth stocking up on Super Potions, since there are much cheaper and more effective healing items on the top floor of this Department Store. So don't bother buying them from the left clerk!
3F: TV Game Shop
There's nothing for sale here; instead, the clerk will give you TM18 (Counter). If this move is used directly after getting hit by a Normal- or Fighting-type move, twice as much of the damage received will be dealt back to them.
4F: Wiseman Gifts
This is a very interesting floor, selling Poké Dolls and evolutionary stones. Poké Dolls can be used in wild Pokémon battles to run away without fail. The stones can be used to evolve the following Pokémon.
Fire Stone

Thunderstone

Water Stone

Leaf Stone

Vulpix -> Ninetales




Growlithe -> Arcanine




Eevee -> Flareon

Pikachu -> Raichu




Eevee -> Jolteon

Poliwhirl -> Poliwrath




Shellder -> Cloyster




Staryu -> Starmie




Eevee -> Vaporeon

Gloom -> Vileplume




Weepinbell -> Victreebel




Exeggcute -> Exeggutor

Remember that in Yellow Version, the Pikachu you started with won't ever evolve! So don't bother buying a Thunder Stone for it.
5F: Drug Store
This floor has items that can increase your Pokémon's stats. The clerk on the left sells items that raise them temporarily (when used during battle), while the clerk on the right sells items that raise them permanently, though they're very expensive. They don't actually make that much of a difference unless you use a lot of them, so I wouldn't recommend getting hung up on buying these. If you are planning to buy them, know that the items raise the following stats.
| | | | | |
| --- | --- | --- | --- | --- |
| HP Up | Protein | Iron | Carbos | Calcium |
| HP | Attack | Defense | Speed | Special |

Rooftop Square: Vending Machines
On the top floor are vending machines where you can buy very cheap healing items. Fresh Water restores 50 HP, Soda Pop restores 60 HP, and Lemonade restores 80 HP. You can only buy one at a time, but you may want to take the time to get quite a few, since they're the cheapest and most effective healing items you'll have access to for a while.

Gee, I'm Thirsty Though! On top of these healing items being a great buy for personal use, you can also take them to any of the guards blocking Saffron City, and they'll all finally let you through. I won't be covering Saffron City until later, but this is all you need to do to get in, so feel free to explore it whenever you want!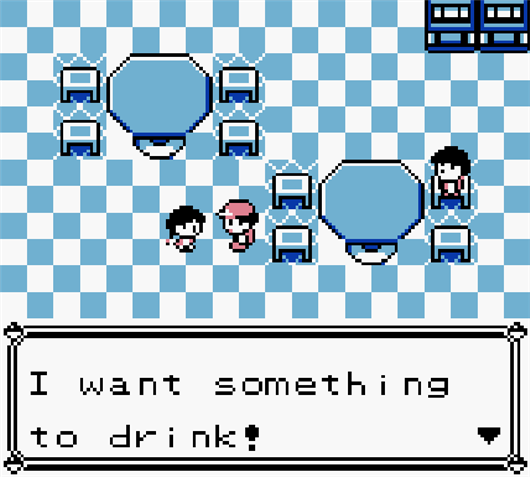 Additionally, there's a young girl here who says she's thirsty. You can give her all three of the vending machine's drinks, and she'll reward you with an awesome TM each. If you give her a Fresh Water, she'll give you TM13 (Ice Beam). This is an amazing Ice-type move, but many Water-types can also learn it, which is an excellent coverage option. If you give this girl a Soda Pop, she'll return the favor with TM48 (Rock Slide). This is another useful move that is great on many Pokémon – not just Rock-types. Giving the girl a Lemonade will result in her giving you TM49 (Tri Attack). This is also a good move, but it's Normal-type so it can't be super effective against anything (not as useful for coverage).
This is the final floor of the Department Store, so whenever you're ready, return to town.
South from the Department Store, you'll see the back of the Gym, but I'll be covering that in the next section. Continue east, and turn south when you see a small body of water. In the first open house you see, talk to the guy in the northwest corner to receive a Coin Case, which is needed to enjoy the Game Corner in the middle of town. The house just to the east of there doesn't have anything interesting, and the house to the far right is just a hotel that has completely filled up.

Ghost PC?! This hotel has a similar layout to a Pokémon Center, but it doesn't have a PC at the far right. Or... does it? Actually, if playing Red or Blue, there is one here you can access; just press A on the empty spot where it would be! How odd!
Follow the north path on the east side of this hotel – on the bush at the very end is a hidden PP Up. Now, return to the bit of water in the middle of town. East of there is the Game Corner, and the smaller building next to it is where you can redeem your prizes.
Game Corner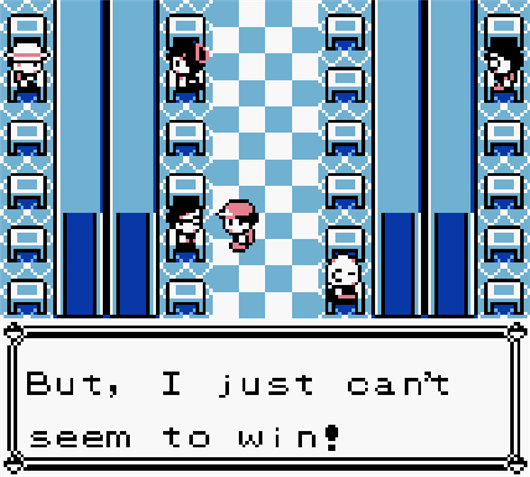 Inside the Game Corner, you can talk to both of the guys playing in front of the entrance to get some free coins. In the next section over, you can talk to the guy who usually waits at the beginning of Gyms to give you advice. Guess he got preoccupied... In the last section over, the guy on the right side will give you more free coins.
There are also a whole ton of coins hidden around the floor, so look around (unfortunately, the Itemfinder won't detect them). Most notably, go to the row of shelves along the northeast side of the building. In front of the fourth shelf to the left is 100 coins.
Behind the counter in the northwest corner, a clerk can sell you coins for money. The free coins you find around the building should be enough to get you started, but if you need more, you can get them here.
And finally, in the very back of the Game Corner is a suspicious looking Team Rocket grunt staring at a poster. He will battle you if you talk to him.

Rocket
Raticate L20, Zubat L20
After you'll defeat him, he'll walk away and seemingly vanish into the wall. However, you can press A on the poster he was facing to flip a switch and uncover a secret entrance! That's right, you've discovered Team Rocket's hideout! If you'd like to explore it now, you can do so by clicking below.
To the right of the Game Corner is the building where you can exchange coins for prizes. The left and middle window have Pokémon available, which vary depending on which version you're playing. These are as follows.
Left Window

Middle Window

Red

Blue

Yellow

Red

Blue

Yellow


Abra L9
180 coins

Abra L6
120 coins

Abra L15
230 coins

Dratini L18
2800 coins

Pinsir L20
2500 coins

Scyther L30
6500 coins

Clefairy L8
500 coins

Clefairy L12
750 coins

Vulpix L18
1000 coins

Scyther L25
5500 coins

Dratini L24
4600 coins

Pinsir L30
6500 coins

Nidorina L17
1200 coins

Nidorino L17
1200 coins

Wigglytuff L22
2680 coins

Porygon L26
9999 coins

Porygon L18
6500 coins

Porygon L26
9999 coins

This is the only place to get Porygon, regardless of which version you're playing. It's very difficult to get, though, as you might have guessed by looking at its price. In Yellow Version, this is the only place to get Vulpix.
The right window sells the following TMs instead of Pokémon:
TM23 (Dragon Rage)

3300 coins

TM15 (Hyper Beam)

5500 coins

TM50 (Substitute)

7700 coins

Hyper Beam is a very powerful move, and this is unfortunately the only place to get the TM. The user has to spend a turn recharging after using it (unless they knock out their target), but that's a very fair payoff for its whopping 150 power.
In order to progress the story, you'll need to explore the Rocket Hideout in the Game Corner. So, if you haven't already done so and you want to clear it now, click below.
You may also want to head west of Celadon City to get a very useful TM and a new Pokémon!
If you've already completed all of that, why not challenge the Celadon City Gym for your next badge? You'll have to Cut down the tree at the south side of town to reach it, so it's easy to miss. Click below to go do that now!