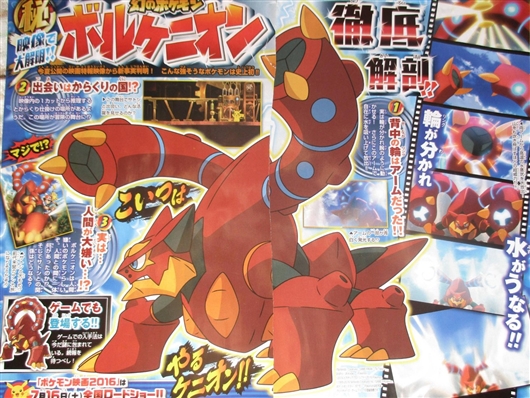 The first images of this month's edition of CoroCoro have been revealed, so here's the information we've got from these images. (Click the images to view a larger version.)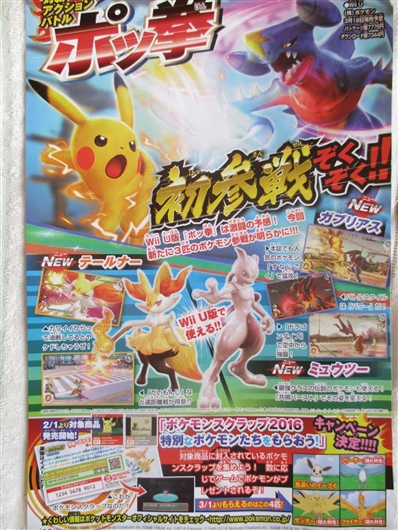 Firstly, the Pokémon Scrap campaign in Japan is returning, distributing new Pokémon through participating products. Among these Pokémon are a shiny Eevee, and the three Legendary Birds, Zapdos, Moltres and Articuno, each with their previously-unavailable Hidden Abilities (Static, Flame Body, and Snow Cloak, respectively). A Master Ball will be distributed as well. These will be able to be redeemed on March 1st, 2016.
New Fighters for the Wii U version of Pokkén Tournament have been revealed as well. Joining the fray will be Braixen, Garchomp, and standard Mewtwo as new playable characters upon its March 18th release.
Garchomp is a Power Category Pokémon, using moves such as Sand Tomb and Dragon Rush, and has the ability to Mega Evolve. Braixen, on the other hand, is explained to be more suited to fighting from a distance, with ranged moves such as Fire Blast.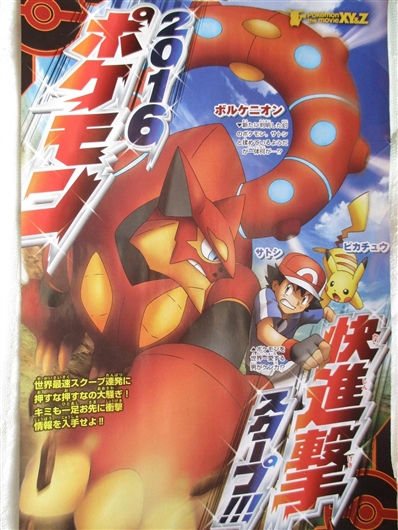 Minor details on the 2016 XYZ movie have also been shown. The image on the right details about how Volcanion "hates humans," while also asking why it does so and what happened to make it hate them.
The next issue of CoroCoro, set to be released on February 15th, will also have a World Exclusive Scoop Poster and a major announcement that will affect the entire world. (A possible main series game announcement? We'll have to wait and see!)