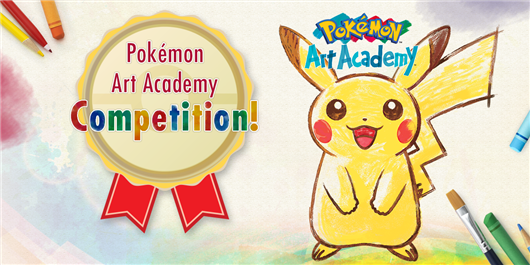 Attention Pokémon Art Academy artists: you now have a chance of seeing your artwork on an actual Pokémon Trading Card! That's right, the newest competition announced for Pokémon Art Academy challenges artists to post art to the Miiverse from February 18th until March 29th under one of two categories: Dress-Up Pikachu and Your Favorite Pokémon. After a period of judging by the Pokémon team, six lucky winners will receive 100 Pokémon TCG cards featuring their artwork!
The Dress-Up Pikachu category challenges artists to unleash their inner fashion designer and design a nifty outfit for Pikachu, similar to the various outfits you find Cosplay Pikachu wearing. Keep in mind that this category isn't simply draw Cosplay Pikachu, as the outfits you draw Pikachu wearing must be new creations! (And remember: don't include third-party or copyrighted brands! Pikachu in a pirate outfit? Awesome! Pikachu dressed up as Iron Man? It won't be able to win!)
The Your Favorite Pokémon category challenges artists to draw their favorite Pokémon using the Free Paint mode in Pokémon Art Academy. Beyond that, the sky is the limit as far as art goes!
Keep in mind that only the first submission you post to the Miiverse for each category will be entered into the competition, so make sure it's the piece you're proudest of! You can submit a separate entry to both categories, though, so don't worry.
The competition is open to a wide variety of countries, too! There's a separate, essentially identical international competition for other countries as well, presumably with a separate set of winners (between all of the international countries). For the North American competition, the United States, Canada, and Mexico are all able to enter; for the international competition, Austria, Australia, Belgium, France, Germany, Ireland, Luxembourg, the Netherlands, New Zealand, Portugal, Russia, Spain, Switzerland, and the United Kingdom are all eligible to win! And even if your country isn't on the list, there's nothing to stop you from drawing either of the themes just for fun!
Also, one more thing to note: while Pokémon TCG cards with the winning artwork is the prize, those cards cannot be used in official events. However, they also won't be sold or included in booster, making them a truly exclusive prize.