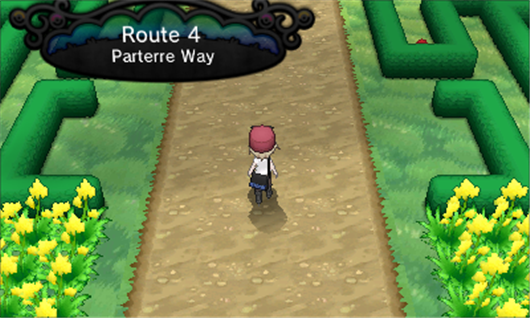 Before you're able to enter Route 4, you'll be stopped by a lady who introduces herself as Alexa, a journalist and Viola's older sister. She'll seem intrigued about having the inside scoop about a young Trainer beating her sister and suggests you come visit her sometime in Lumiose City to the north. She'll also bestow on you one of the most useful items in the game, the Exp. Share.
The Exp. Share has changed substantially compared to previous generations. For starters, it's now a Key Item instead of a held item. It gives all Pokémon in your party 50% of the EXP earned by any fighting Pokémon, meaning if you had a Fennekin gain 200 EXP in one battle, each of your other party Pokémon would gain 100 EXP. No, this EXP is NOT split, so there's very little reason to actually turn it off, although you can do so by selecting it from the Key Items bag.
Now, head north onto Route 4, where you'll find flower patches — a new place for you to find slightly different wild Pokémon, including different flower colors of a new Pokémon, Flabébé.
Wild Pokémon on Route 4
Pokémon
Type
LVs
Notes
Flabébé

Fairy

6-8
Common. Flower color depends on which color of flowers you encounter it in. Orange and white are found in both flower colors but are very rare.
Ledyba

Bug

8
More common in Red flowers.
Combee

Bug

6-8
More common in Yellow flowers. Only females evolve into Vespiquen.
Budew

Grass

Poison

8
Uncommon.
Skitty

Normal

8
Uncommon.
Ralts

Psychc

Fairy

8
Rare.
There are plenty of items and Trainers around the area, too. In order to navigate the hedges, it's highly recommended that you use your D-pad to move around, as it will be difficult navigating them with your roller skates. In the southwest part of the route, there's a Repel, an Antidote, and Gardener Wheaton with his Corphish L10. In the southeast part of the route, through the hedges, there's a Super Potion waiting for you.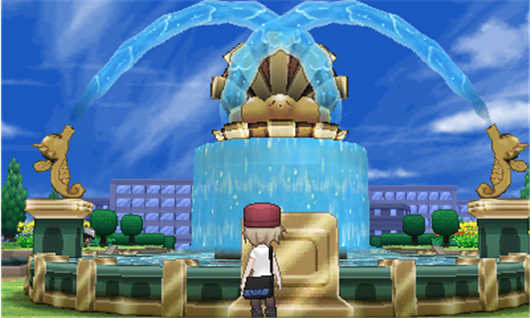 When you reach the middle of the route, you'll find the glorious Perle Fountain, as well as some Roller Skaters. Roller Skater Roland uses a Pidgey L10 while Roller Skater Calida uses a Fletchling L10.
Now head to the north and you'll be able to enter either the west or east path. The eastern path is guarded by Poké Fan Agnes, who has three Burmy L7, one of each cloak. North of her is Preschooler Adrian with a Magikarp L9 that he traded for. Poor kid got ripped off.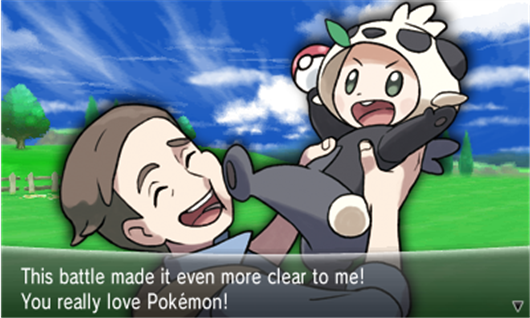 The western path is blocked by Preschooler Mia, who's got a Budew L9. Then, in the center of the area is Poké Fan Gabe, who uses a Pichu L7 and a Pikachu L9. Right to the south of him is a Poison Barb, which powers up the holder's Poison-type moves.
In the very northeast part of the route is an Ether as well as Gardener Fabian, who also uses a Corphish L10. The very northwest part of the route has a Net Ball and Gardener Grover, who, surprise, uses a Corphish L10 as well.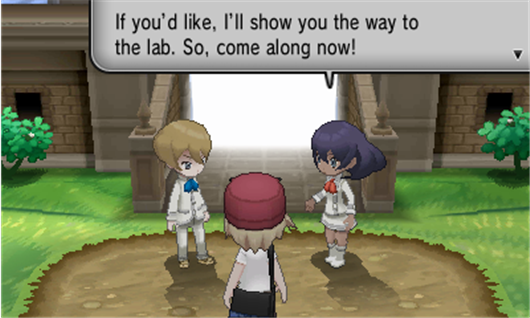 Make your way down the center of the route until you find two people standing around. They'll ask if you've seen a Flabébé and explain that it's one of the newly discovered Fairy-type Pokémon, that the man's name is Dexio and the lady's is Sina, and that they work for Professor Sycamore. They offer to show you the way to the lab, so say yes, and they'll guide you into the massive Lumiose City.