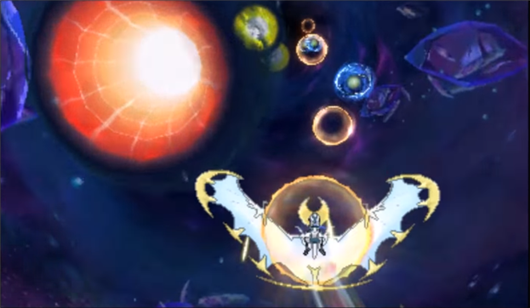 Ultra Wormholes, and Ultra Space in general, were touched upon in Pokémon Sun and Pokémon Moon but not truly available — but now, in Pokémon Ultra Sun and Pokémon Ultra Moon, players may freely explore these unique areas!
After visiting Ultra Megalopolis as part of the main story, players will gain the ability to travel through Ultra Space freely atop Solgaleo or Lunala. To enter, visit the Altar of the Sunne or Altar of the Moone on Poni Island; upon choosing to 'Return to the Ultra Wormhole,' the mini-game will begin.
 "I don't like the gyroscope controls!"
If using gyroscope controls —which is navigating by tilting your 3DS handheld system— is not your thing, you are able to switch to circle pad control by visiting the Game Freak building in HeaHea City.
Ascend to the second floor and enter the Game Freak office, then speak to the Aether employee you find there on the left side. You may switch freely between control types this way.
 "Can I enter Ultra Space on the other Legendary Pokémon?"
If you wish to change which Legendary Pokémon you enter into Ultra Space with —Solgaleo or Lunala— you may do this by visiting Ultra Megalopolis.
Simply speak to the Ultra Recon Squad member at the entrance, and you may switch back and forth at will.
Now that you've set your preferred method of control, it's time to zoom into Ultra Space!
During your ride, it is important to note a couple of things:
✧ Gather energy (the little yellow balls) to fly faster and go farther
✧ Colliding with the electric balls will harm Solgaleo and Lunala, causing them to fly slower
✧ You may avoid wormholes you do not wish to enter on the way by navigating around them
✧ The further you fly, the more chances you have to encounter shiny Pokémon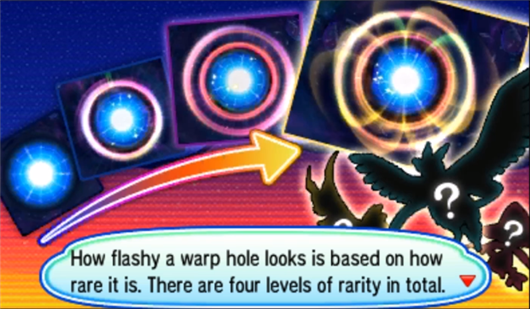 ✧ Shinyness is determined when one enters a wormhole; so by saving and resetting, a player may obtain a shiny with the stats they want
✧ Enter the flashier-looking wormholes for rarer Pokémon — and perhaps even Legendary Pokémon
✧ To obtain a shiny Legendary Pokémon, soft reset while inside a wormhole


There are five different color variations of wormholes; the color determines what is able to be found there.
White Wormholes

Nihilego

BuzzwoleUS

PheromosaUM

Xurkitree

KartanaUS

CelesteelaUM

 


Guzzlord

 
Blue Wormholes

Quagsire

Lombre

Floatzel

Stunfisk

Barbaracle

Suicune 


(requires Entei and Raikou)


LugiaUM

LatiasUM

LatiosUS

KyogreUM

Kyurem


(requires Reshiram and Zekrom)


Uxie

Mesprit

 


Azelf
Green Wormholes



Nuzleaf




Grumpig




Drapion




Audino




Heliolisk




Mewtwo


RaikouUS

DialgaUS

EnteiUM

ReshiramUS

XerneasUS

ZekromUM



Cobalion




Terrakion




Virizion
Red Wormholes

Swellow

Altaria

Yanmega

Sigilyph

Swanna

Cresselia

Articuno

Zapdos

Moltres

Ho-OhUS

TornadusUS

Landorus


(requires Thundurus and Tornadus)


ThundurusUM

YveltalUM

Rayquaza


(requires Kyogre and Groudon)
Yellow Wormholes

Magcargo

Medicham

Hippowdon

Abomasnow

Crustle

Regirock

Regice

Registeel

Giratina


(requires Dialga and Palkia)


GroudonUS

HeatranUS

PalkiaUM

 


RegigigasUM