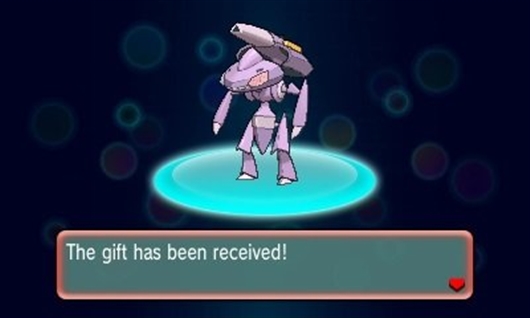 As it rolls around into November, so does a new Mythical Pokémon. This month, it's Genesect.
Like with Mew, Arceus, and Darkrai, Genesect is available via serial code at select stores. It will come at Level 100 with the moves Techno Blast, Magnet Bomb, Solar Beam, and Signal Beam.
Be sure to check below to see when it is available for you.
This will be updated if more locations are announced.
| | | |
| --- | --- | --- |
| Country | Available Stores | Dates |
| United States | Gamestop | November 1st - 24th |
| Canada | EB Games | November 1st - 24th |
| Australia | EB Games | November 1st - 24th |
| New Zealand | EB Games | November 1st - 24th |
| United Kingdom | GAME | November 1st - 24th |
| France | Micromania | November 2nd - 24th |
| Germany | Gamestop | November 1st - 24th |
| Italy | Gamestop | November 1st - 24th |
| Spain | GAME | November 1st - 24th |
| Belgium | Game Mania (Nintendo Zone), FNAC CORA and Smartoys | November 1st - 24th |
| Austria | Gamestop | November 2nd - 24th |
| Netherlands | Game Mania (Nintendo Zone) | November 1st - 24th |
| Finland | BR | November 15th |
| Sweden | BR | November 15th |
| Norway | BR | November 15th |
| Denmark | BR | November 15th |
| Switzerland | Gamestop | November 1st - 24th |
| Portugal | FNAC | November 1st - 24th |
| South Africa | BT | November 1st - 24th |