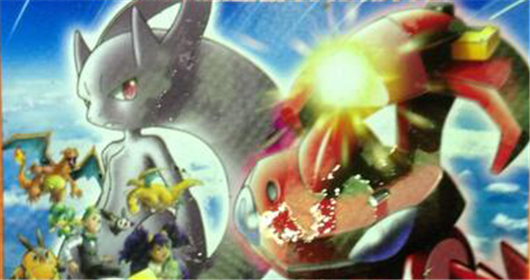 Images of more promotional posters for the upcoming Pokémon movie, Godspeed/ExtremeSpeed Genesect and the Reawakening of Mewtwo, have been posted to the Japanese message board, 2ch. The exciting thing about these posters is that they show a new form for Mewtwo.
Two images were posted showing off the new form, which you can see above. While these have yet to be confirmed, checking out the Japanese Pokémon Movie website shows a suspicious empty space beneath Mewtwo while showing Genesect's alternate forms (the different Drives for it).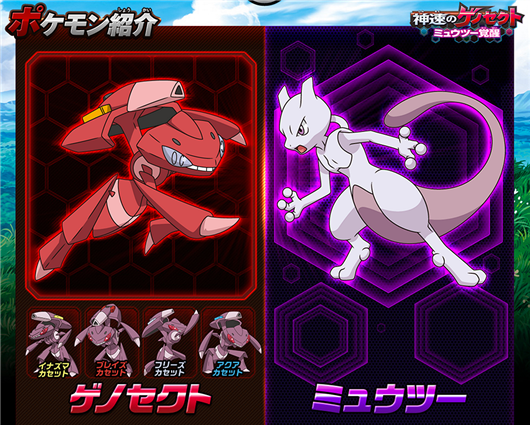 It appears that the two hexagons beneath Mewtwo are meant to include its alternate form once it is officially revealed. The fact that there are two hexagons beneath Mewtwo may perhaps indicate that Mewtwo will receive a second alternate form in addition to the one shown above, although this is solely speculation stemming from the fact there are two hexagons beneath Mewtwo positioned similarly to the four rectangles beneath the Red Genesect, which show off Genesect's alternate forms.
It's still possible this could be a hoax, as it is yet to be confirmed, but the fact that the official movie website shows that extra space beneath Mewtwo suggests that it may indeed be true.
---
How do YOU game? Are you loyal to Nintendo or do you branch out to other systems and platforms as well? Do you prefer handheld games such as Pokémon, console games, or PC games? How much time would you say you spend gaming each week? We would love to hear what gaming is to you, so check out this short survey by Curse to let your voice be heard!