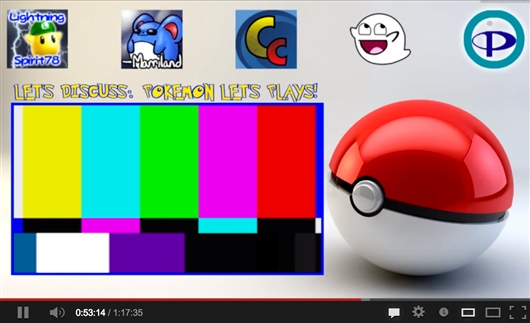 Let's Play. These two words have become synonymous with videos of peoples' experiences playing through video games while providing their own spin on things, be it information, entertainment, or a mixture of the two. A Let's Player is someone who plays through the game, posting their videos in what is often called a Let's Play (often abbreviated to "LP") series of whatever game they're playing.
While the Let's Play community is huge and covers just about every game imaginable, Sephazon from the Let's Discuss series has rounded up some of the biggest and most interesting Pokémon Let's Players from all around the vast land of the interwebs, bringing them together in an epic discussion to talk about their Let's Play experiences and what it means to be a Pokémon Let's Player.
Who is on the discussion panel? Take a look at who is featured on this episode of Let's Discuss:
The five of us Pokémon Let's Players band together and discuss all of the things that make doing Pokémon Let's Plays so much fun — as well as the points that cause a lot of frustration! Definitely check out the video and be sure to check out all of these fine Let's Players, too.
How about you? Do you have any favorite Pokémon Let's Players? Are you a Let's Player yourself? Who got you into it? What makes Pokémon Let's Plays so fun to make and so fun to watch? Come on, let us know in the comments! Let's Discuss!