While Apex is a tournament that generally focuses on the Super Smash Bros. series in addition to other fighting games, it has opened its doors to Pokemon fans this year and is giving them a chance to compete head to head in Apex 2013. This tournament will take place on Friday, January 11th, 2013, in New Brunswick, New Jersey.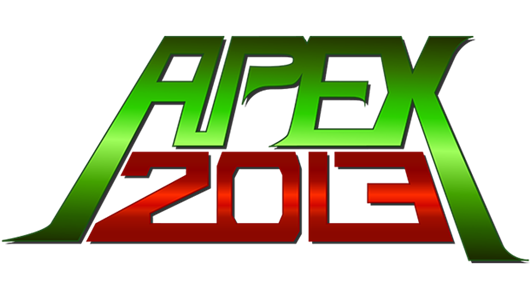 Our friends at Nugget Bridge will be providing live commentary during the later rounds of the event, which is excellent, as they've got some of the top Pokemon pros in the world contributing to their site. They'll be working with CLASH Tournaments to stream the event live and in high quality, so even if you aren't able to attend, you'll still be able to enjoy a good show. The stream will start at 8:00pm EST on January 11th, 2013, and we intend to provide a link here once the stream is live.
Sound exciting? Well, there's even more details behind the break, so check it out and be sure to check out the news update on Nugget Bridge about it as well.
If you aren't familiar with Apex, it's one of the largest fighting game tournament series around and home to the largest Super Smash Bros. event of the year. The 2012 event featured over 800 players from countries all around the world including Canada, Netherlands, and Japan. As you can probably see from the video above, there's quite a bit of energy at the event!

Nugget Bridge is proud to announce that we will be partnering up with CLASH Tournaments to stream Pokémon Black & White 2 for Apex. With our commentators' knowledge of the game and the high quality streaming that CLASH Tournaments is known for, we aim to set a new bar for live Pokémon coverage. The stream will start at 8:00 PM Eastern.

The Pokémon Black and White 2 tournament will take place on the evening of Friday January 11th, 2013 at Rutgers University in New Brunswick, New Jersey. A $10 entrance fee [in addition to a $20 spectator fee for Apex] will be required to enter and the Top 3 will win cash prizes (payout TBD). Trainers will play in a single game double elimination tournament using the VG Modified format of the time. Losers Finals, Winners Finals, and Grand Finals will be played as best of threes. With the VGC '13 Spring Regionals a week later, we are sure to have the updated VG Modified ruleset in time for this tournament.

Date: Friday January 11th, 2013
Start Time: 5:00 PM
Venue: Student Center (Rutgers University), 126 College Avenue, New Brunswick, NJ 08901
Entrance Fee: $10
Prize: Top 3 get cash prizes (amount TBD)
Ruleset: VG Modified
Format: Single Game, Double Elimination. Winners, Losers, and Grand Finals to be played as Best of 3.
Tournament Organizers: Angel Miranda (Sapphire Birch) and Mark Korsak (ChiboSempai)

You can register online now.

Road to Apex

Nugget Bridge's live tournaments from December 2nd to January 3rd will be Apex Qualifiers. As a result, they will count for both Nugget Bridge Circuit points as well as Apex 2012 seeding points. Your seeding in the tournament will be determined by the points you receive for the live tournaments. If you're planning to attend Apex, we recommend you play in as many live tournaments as possible over the next month! Events are held over the Nintendo WiFi Connection and threads will be posted in our Online Tournaments forum before every event. You are asked to please join #nuggetbridge on SynIRC for the duration of live tournaments.

Qualifier #1 on Sunday, December 2nd, 2012
Qualifier #2 on Thursday, December 6th, 2012
Qualifier #3 on Wednesday, December 12th, 2012
Qualifier #4 on Thursday, December 20th, 2012
Qualifier #5 on Sunday, December 30th, 2012
Qualifier #6 on Thursday, January 3rd, 2013

You are still able to play at Apex without playing in any qualifiers, but you will be unseeded. If you have any questions about the event, please ask them in the discussion thread. We hope to see you at the event!
Please keep in mind that Marriland has nothing to do with the operation of this tournament, so you will need to direct your questions to the appropriate place. If you are unfamiliar with EV training and advanced IV breeding, then this is not the tournament for you.