ShippoTheHippo
Regular Trainer
Join Date:

6/12/2010

Posts:

116

Member Details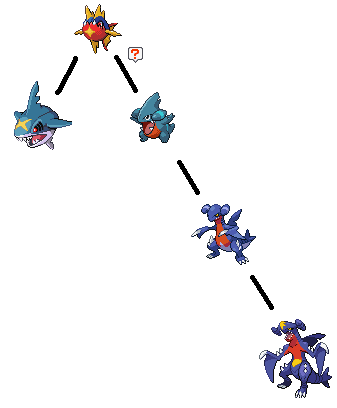 Most of of us have come across the question asked by many people "Is Gible a relative of Sharpedo or Carvanha?"
I'm asking members of Marriland their Opinion, is the Garchomp family related to the Sharpedo family or not? Share your thoughts here and pick your answer yes or no. I expect A LOT of no's because of the probablilty of them actually be related is very slim, and we could not even officially decide because the designers of Pokemon would have to approve and they live in japan (or China idk).
But still have fun and decide, i will be providing details both disproving and proving that their related.
And comment while you can it's probably going to be locked in a little.
Reasons people may theorize their relativity or not.
Please correct me if i phrazed that wrong.
Appearance:
One of the main factors is how they come off in appearance, you may notice that both Sharpedo Carvanha, and Garchomp have the thing people describe as a "yellow star-shaped thingy on their heads". They also have the base of the three same colors, Red, Yellow, Blue (although I wouldn't really count Sharpedo's eyes as a a real red because as you know skin color don't go up to your eyes :|). Also Garchomp's Shark fin thing in the back is chipped almost exactly like Sharpedo's, they also all have sharp teeth. Sharpedo's bottom is painted like Garchomp's hehe bottom.
Descriptions:
Gible is described as a "Land Shark" Pokemon which means it had to have originally been a Shark Pokemon (hint-hint

) or it would have been know as a "Cave" Pokemon instead. It's Pearl Pokedex description states "It once lived in the Tropics" whereas Carvanha's Pokedex states "They live in rivers in the Jungle."
The tropics are generally places about 10 deg above and below the equator. Tropics have jungles. You might find a jungle some distance behind a beach, and there are jungles far from beaches. All in the tropics.
Other:
People think that when R/S was coming out the Garchomp idea was scrapped and saved for DPt because Garchomp would be too powerful of a Non-Legendary because Sharpedo already had a base-attack of 120, also it had a base Sp. Atk of 95 and base Speed of 95. Increase those and Sharpedo's weaker stats, Change it to Water-Dragon, Dark-Dragon, Ground-Dragon, Garchomp would be more of an unstoppable beast then it already is. It would still take little damage from Stealth Rock (or Spikes), being Water-Dragon it would take neutral damage from Ice, and being Dark-Dragon it would take Ice x4 but it could put some hurt on many Psychics. (and Dragon Ubers).
Also in one Pokemon Episode, even though I don't watch Pokemon I heard in that episode they are chasing a Gible and then a Sharpedo pop's out of nowhere? Maybe another secret hint?
Disprovers:
People think he looks more like a HammerHead shark than a Sharpedo looking shark. Garchomp has certain jet-dragon like traits while Carvanha, and Sharpedo are obviously Piranha then Shark.
(I will add your comments to Disprovers)