Flo

one with the sweater
Location:

whomst know

Join Date:

11/20/2014

Posts:

2,589

AKA:

Jaden, w00p

Gender:

♂ (Male)

FC:

5129-1854-0082

IGN:

Flo

Member Details
"Reborn City has been a dump for years. Excess pollution and an utter lack of care from the population led to the area being near unlivable. The Reborn League was set up to try and get something started again in Reborn City, something great. That's what the pamphlets and websites will tell you anyway. I know the truth. My name is Cynthia, and this is my story. This is the true start of Something Great."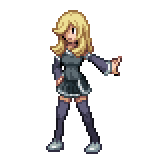 YES I STILL LIVE HELLO
This will just be a regular nuzlocke of Reborn, since, to be frank, it's hard enough as is. I have good knowledge of about up to badge 4, then it gets foggy so that should be fun.
1. Faints = Death
2. New area = New Encounter. Since this game is kind of foggy as to what counts as a new encounter, I'll be using my own decisions on the matter.
3. Since shinies are far more common in Reborn, Shiny Clause is active, but only applies once per area. This could potentially lead to up to 2 encounters per area.
4. Dupes clause is on, because I don't want lots of garbage :eyes:
5. Reborn loves to give you gift pokemon. I will be using the rule of I cannot already have an active pokemon of that type. For example, if I encounter a gift Numel, but I have a Tepig in my party, I cannot accept it. Nothing stops me from going back to get it later.
6. Nicknames lole
Chapter 1: The Start and The End - It's just below dummy
Chapter 1: The Start and The End
"OK, you're all set now. Thank you!" The woman was sat across the carriage, with a grey-haired boy, presumably another challenger to the League. I turned my head to look out the window, giving the pair some modicum of privacy. As it were, the carriage was rather nice, plush seats and artfully placed light fittings brought the image of an old-age train together. Currently we were passing through some desert, and it was about as interesting as a desert could be. Sand. Sand everywhere. Out of the corner of my eye, I could've sworn I saw an Absol, but in an instant, it vanished again. A tapping brought my attention back to the train, where the woman from earlier had moved to sit opposite me. Presumably, it was my turn to be interviewed. I passed over the train pass I had gotten from the conductor.
"Well, aren't you prepared? My name is Ame, and I run the Reborn League. Now, normally, I wouldn't be doing stuff like this, but since I was out of the region on business, I figured I'd get to know the new batch of trainers starting my League, you know?" I nod along, getting where she was coming from. It's likely they've got other checks as well, but having the executive leader check avoids all the red tape. "So, Cynthia. Born in Celestic Town, raised by one Acuity and Vincent Majolica. Had plans to join the Sinnoh league, but elected to instead join the Reborn League. Why? We have veteran trainers coming to join the league, former Champions, so why did you pick here as your first League?" I pondered the question. Where Ame was coming from made sense. Why would I join one of the most difficult Leagues. To other people, the answer may have been 'That they wanted to be the best', or that 'They had no time for chump Leagues'. My answer, was far simpler than that.
"Ms. Ame, I have Nuzlocke Syndrome. Any Pokemon that faints while I own it will die. I feel the pain of these Pokemon. If I would 'White Out', and lose a battle, the psychological pain that I would take would shut down my nervous system, and kill me. I know that it is what took my father from me. If I only get one shot at a League, I want to go big, because I can't go home." Ame's face didn't hold the look of shock or pity I was expecting. If anything it was a resigned look, hardened, as if watching a soldier march to their death. I wonder how many people she has looked at, trainers with hopes and dreams who could never make it.
I knew what she getting at. The Shadow behind me was nothing new. It had followed me since my diagnosis, and presumably would follow me until my demise. I shrugged, not having anything I could particularly say to inform Ame. It never spoke, never did anything. It was just there, hanging over me. Ame stood abruptly, looking out the window. The desert had long since passed, now speeding past grey desolate buildings. "We should be decelerating already. We're practically in Grandview Station already. Oh no, MOVE!" Ame grabbed me and pulled me out of the window, just as a resounding boom crashed behind me. I could feel the heat as the wave of force blew me forward out of Ame's grip, head first into a rock, knocking me unconscious.
"Yeah, I'm fine, or at least I will be. What about everyone else on the train!" Ame just turned away slightly, eyes covered by the bangs of her hair. It told me all I needed to know. Even though I didn't know them, not even their names, I would carry their memories with me. Somebody had to.
"Yeah, but who would do that, kill an entire train full of people! Unless it was an accident or something." Ame shook her head. "No, this was deliberate, and I intend to find the person, or persons, who did this." Ame pulled out her phone, a sleek black model, and dialled a number of the police or something, presumably. "Julia. Get to Grandview right now. No. Of course not. No. Alright fine, just get here ASAP." Ame hung up exasperatedly, seemed like this Julia character was a handful. And judging by the yellow and green blur that was streaking down the street, she was perhaps slightly more than one handful. Seventeen, perhaps. Ame sighed as she saw the person approaching. "Julia. Did you do this?" Julia emphatically shook her head.
"No way, Ame! I know better than to make you upset, and blowing up the train station is a big time way to get you not happy! Besides, if it was me, I'd use wayyy more streamers and fireworks, even you know that! Also, I'd be here too.
"Yes, well. I'm going to go and catch the perpetrator. They cannot have gotten far. Julia, co-ordinate with the police forces to help gather evidence. Cynthia, I apologise for leaving you here, but head to the Grand Hall down this road. You can't miss it. Either me or someone else will be there to get you a starter Pokemon. I apologise for all of this." Ame waved around, clearly signifying the explosion of Grandview Station. I nodded, about to start walking down the street when Julia stepped in front of me, Pom-Poms flailing around erratically.
"Uh, yes?"
"THAT'S GREAT! Because you'll have to come by my place, because I'm the Electric-Type Gym Leader! Well, see you around kiddo."
Julia bounced off, leaving me to wander down the street to find this Great Hall. Ame was definitely right, it is clearly noticeable, the giant X on the door really gave it off. Outside the door was a girl dressed in all black. I approached cautiously. I didn't know anybody here, and the rumours about gang activity, thugs and other criminals may be true, but I didn't want to find out. Luckily for me, she took the imitative.
"Cynthia. Is this the Grand Hall? Ame sent me here to get a starter Pokemon." Victoria nodded slowly and smiled slightly.
"This is the Grand Hall. Let's head inside. I also am getting a starter Pokemon, though only because my Master requested it." We both walked inside, the large doors opening automatically to allow us entrance. The inside was vast, brightly lit. A Pokemon Center and a Pokemon Market were present as well, presumably to help trainers get off on the right foot. Victoria led me up to the main desk, where Ame stood waiting for us. She told us that the perpetrator had been caught and was being interrogated below. She led us up to where the starter Pokemon lie in wait for new trainers, the only question remaining to me was simple.
So ends Chapter 1! Question for all you readers, which starter should I pick? All of them are available, from Bulbasaur all the way up to Popplio. Leave your decisions below!