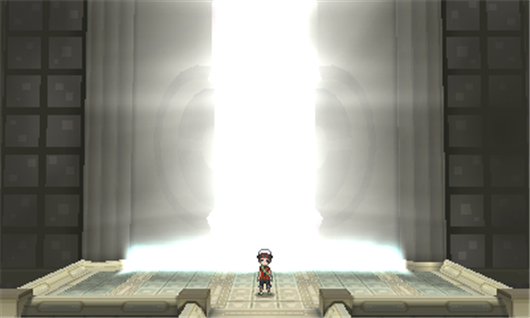 You have one final walkway leading to a gigantic door before taking on the Pokémon League Champion. Once you arrive there, you'll discover that the Pokémon League Champion is none other than Steven Stone himself!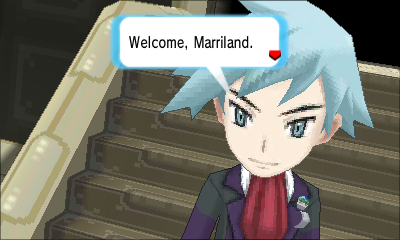 After a brief discussion, the final battle will commence!
Final Battle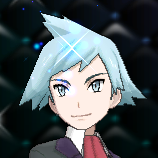 Champion Steven
11,800
Skarmory ♂

Moves: Toxic, Aerial Ace, Spikes, Steel Wing
Weak to: Fire, Electric

Lv. 57

Steel

Claydol

Moves: Reflect, Light Screen, Extrasensory, Earth Power
Weak to: Water, Grass, Ice, Bug, Ghost, Dark

Lv. 57

Ground

Psychc

Aggron ♂

Moves: Stone Edge, Earthquake, Iron Tail, Dragon Claw
Weak to: Fighting, Ground, Water

Lv. 57

Steel

Rock

Cradily ♀

Moves: Giga Drain, Ancient Power, Sludge Bomb, Confuse Ray
Weak to: Ice, Fighting, Bug, Steel

Lv. 57

Rock

Grass

Armaldo ♂

Moves: X-Scissor, Rock Blast, Metal Claw, Crush Claw
Weak to: Water, Rock, Steel

Lv. 57

Rock

Bug

Mega Metagross

Moves: Bullet Punch, Zen Headbutt, Meteor Mash, Giga Impact
Weak to: Fire, Ground, Ghost, Dark

Lv. 59

Steel

Psychc
Steven packs a full team of six Pokémon, and they don't share too many weaknesses. You'll need to adapt your lead Pokémon to match whatever he has out! Water-type moves are generally pretty affective against all of his Pokémon, though, which is great because half of his team is part Steel-type, meaning there are a lot of resistances you need to bust through.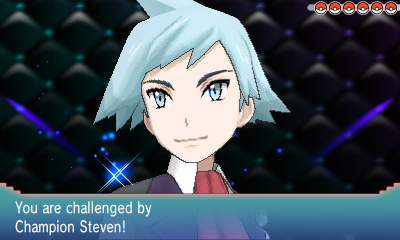 He leads with his Skarmory, a Steel/Flying-type that has very high Defense. Physical attacks will leave you disappointed if you use them against Skarmory. It has Sturdy, so it will be able to survive at least one super strong move like Thunderbolt or Flamethrower that would take it out in a single hit.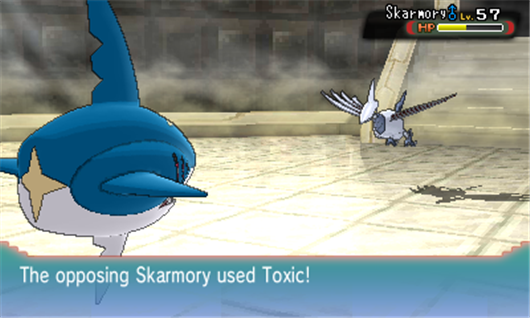 It's going to take at least two hits no matter what; since Steven can use up to three Full Restores in the battle, you might be better using a weaker move on Skarmory first. As far as what Skarmory can do, it likes to set up by using Spikes up to three times, with each layer of Spikes dealing damage to any of your grounded Pokémon whenever they switch in. If it pulls off Spikes three times, your Pokémon take 25% of their max HP in damage when they switch in, unless you have Rapid Spin or Defog to clear the Spikes away. Toxic can be very disruptive as well, badly poisoning your Pokémon. For attacking moves, it only has Aerial Ace and Steel Wing, and even though these moves get a boost from the Same Type Attack Bonus, they should be relatively manageable. Try to take Skarmory out as quickly as possible with Special-based moves; Electric- and Fire-type moves are best, but Water-, Ice-, Dark-, or Ghost-type moves also work pretty well against it so long as they are Special-based.
Depending on when he sends out his Claydol, you could be in for some trouble. If he sends it out earlier on, it's probably for the best,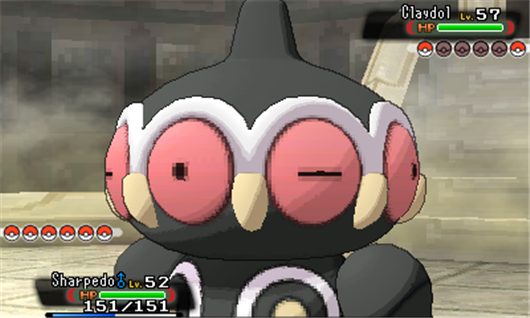 because this thing is very defensive and is capable of setting up both Light Screen and Reflect to raise the defensiveness of Steven's entire team for the next five turns. Using Taunt will shut it down right away, but otherwise you're going to want to give this Ground/Psychic-type everything you have to take it out before it can set up those moves, otherwise it's going to be a lot harder to take down Steven's remaining Pokémon. It has a lot of weaknesses, though, but its defensive stats make it tough to take down in one hit. In addition to Light Screen and Reflect, it also has Extrasensory and Earth Power, two strong Special-based moves for each of its types.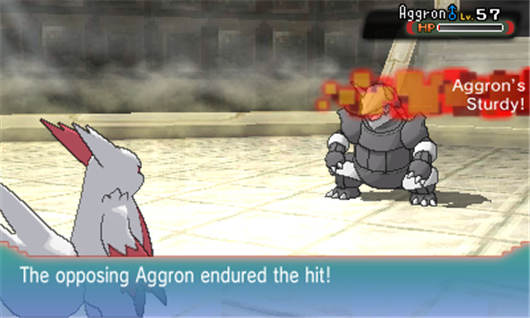 Aggron has a mountain of Defense and is a very sturdy Steel/Rock-type. It's literally sturdy, too, with its Sturdy ability, preventing it from being knocked out in a single hit so long as its HP is full. That's a problem, too, because even though it has a double weakness to both Fighting- and Ground-type moves, Sturdy will keep it around long enough to use a move afterwards. On top of that, Steven is likely to use a Full Restore afterwards. Aggron's Attack is also very high, and with powerful moves like Stone Edge, Iron Tail, and Earthquake at its disposal, you'll really feel the burn. It also packs Dragon Claw.
Cradily is a very defensive Pokémon, with a strange Rock/Grass-typing, in addition to good Defense and Special Defense.
It doesn't focus on doing too much damage, but it will whittle away your HP and stick around to keep annoying you. It is weak to Ice-, Fighting-, Bug- and Steel-type moves, though it should be able to endure all but the strongest super effective ones. It has Confuse Ray to confuse your Pokémon, then it follows up with Giga Drain to do some solid damage and also heal itself by half of the damage it inflicted. Ancient Power can potentially raise all of its stats while doing some moderate Rock-type damage, but it's only a 10% chance of that happening, so most of the time it's not too bad. Lastly, it packs Sludge Bomb to do some decent Poison-type damage and possibly poison you.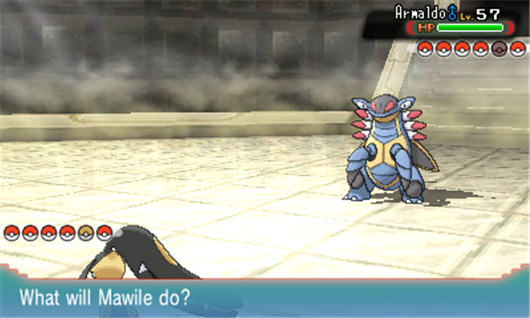 His Armaldo has an unusual Rock/Bug-type, giving it just three weaknesses: Water, Rock, and Steel. It has X-Scissor and Rock Blast to worry about the most, both of which capable of doing strong damage, while it also packs both Metal Claw and even Crush Claw. The latter two are less of a problem, but Metal Claw could potentially raise its Attack while Crush Claw is likely to lower your own Defense after it hits.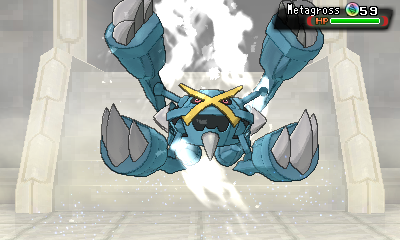 Last up is his Metagross, which he will Mega Evolve into Mega Metagross on the first turn that it's in battle. Mega Metagross is an extremely strong Steel/Psychic-type threat with huge amounts of Attack and Defense, plus its Tough Claws ability raises the power of some of its moves even further. It packs Bullet Punch, which will strike first and strike hard thanks to Tough Claws, although if it doesn't opt for speed, it may opt for Meteor Mash, which hits even harder and has a chance of raising its Attack stat by one stage. Not good! Zen Headbutt gives it solid Psychic-type coverage while Giga Impact will do heavy damage, but cause it to recharge for a turn after it's used — a great chance to allow you to heal. If you can manage to burn it with Will-O-Wisp or Scald, you'll enjoy the reduced damage its attacks do. Otherwise, use your strongest Fire-, Ground-, Ghost-, or Dark-type moves, preferably Special-based moves, since its Defense is much higher.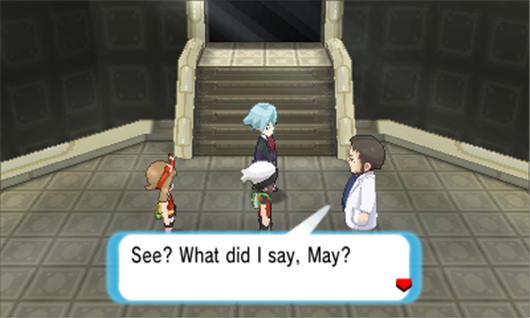 After you've defeated Steven, you'll be crowned the new Pokémon League Champion. Hurray! However, just before you're officially crowned, either Brendan or May will show up with some "pro strats" on how to take down the Champion, only to find out that you've already done so. Professor Birch will show up for some reason, congratulating you on your victory.
Steven will then lead you into the Hall of Fame, where you'll register your team of Pokémon as champions.