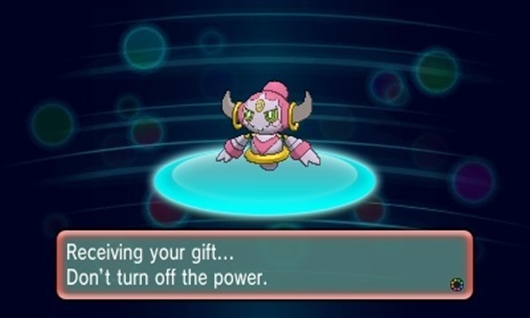 On Thursday, The Pokémon Company International has announced that a Hoopa distribution will be available "later this year" in North America. It has already been released in Japan over the summer. No specific date—or even a month—was given, but it will at least be before the end of the year in North America. It comes at level 50 with the moves Hyperspace Hole, Psychic, Astonish, and Nasty Plot. It will be available in Pokémon X, Y, Omega Ruby, and Alpha Sapphire.
Those of you in Europe have a chance to pick up Hoopa much sooner, though, as there have been several European countries with confirmed Hoopa dates, although the method of obtaining Hoopa will vary based on your location.
In the Netherlands, Hoopa was available via serial code given at the Firstlook Festival in Utrecht from Oct. 10th–11th (apologies, this even is already over).
In the UK, Hoopa will be available at select GAME stores from Oct. 23rd–Nov. 5th.
In Germany, Hoopa will be available at select GameStop stores from Oct. 16th–Nov. 7th.
In Italy, Hoopa will be available at select GameStop stores from Oct. 22nd–Nov. 12th.
France and Spain will both be getting Hoopa at a later date, with each country's press release mentioning sometime later in Autumn.
Other countries have not yet gotten any confirmation at the time of this post.
My apologies on the delay in getting this news up, as I was out of town several hundred miles away at the Pokémon Symphony in Nashville, TN!
---
Additionally, the newest issue of CoroCoro has revealed that during the Pokémon XY&Z anime series, special serial codes to receive a Shiny Xerneas, a Shiny Yveltal, and a normal Zygarde will be revealed. On October 29th, the code for Shiny Xerneas will be revealed in the premiere of the Pokémon XY&Z anime series; on November 5th, the code for Shiny Yveltal will be revealed, while on November 12th, the code for an ordinary Zygarde (in a Cherish Ball, though) will be revealed.
These codes are only for Japan for the time being and will not work on any other region of games. Since it is normally impossible to have a legitimate Shiny Xerneas or Yveltal (both are "Shiny Locked," meaning there is no legitimate way to encounter a Shiny version), these will both be quite coveted and they will likely be made available sometime later on, perhaps when the Pokémon XY&Z anime starts up in North America. Just remember nothing has been confirmed on that and we're all still waiting.