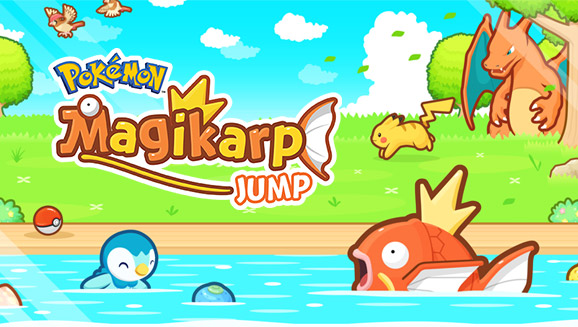 'Magikarp Jump,' a new mobile game for iPhone, iPad, and Android devices, has been released worldwide in the App Store and Google Play. It is currently available to play in English, Italian, French, German, Spanish, Japanese, Korean, simplified Chinese, and traditional Chinese.
Trainers will begin their adventure in Hoppy Town, where the town's mayor —Karp— will act as their guide. Raise Magikarp by feeding and training them, then take on the six leagues to see which Pokémon jumps highest! There are nineteen different styles of Magikarp to find, and several support Pokémon that will assist players along the way in various ways.
More details on the game, as stated on the official website:
"Train your Magikarp to soar as high as possible in Pokémon Magikarp Jump! The lowly Magikarp now gets its time in the spotlight with this fun app for iPhone, iPad, and Android devices. Feed and develop your Magikarp to maximize the Pokémon's jump power to reach new heights. Then compete to see if your Magikarp is the best. Can your Magikarp rise to the level of League Champion?


During your training, if Magikarp gets knocked out, or retires upon reaching Lv. 20, you'll start over with a new generation of Magikarp. But not all progress is lost—your new Pokémon will start off a little bit stronger than your last. Keep training every Magikarp until you can make it to the top of the in-game tournament ladder!
While you're raising your Magikarp, keep an eye out for Pokémon that want to help you. For example, some Pokémon you encounter will give you food to keep your Magikarp nourished.
When you do well in jumping tournaments, you can get commemorative photos of your achievement. You can share these photos online and with friends to show the world how well you've trained your Magikarp.
Magikarp Jump also features in-app purchases, where you can spend real money on a variety of things to speed up your training, replenish your food stock, and catch more Magikarp. You can also purchase decor to customize your Magikarp's habitat."
---
Are you planning on trying this mobile game? How has your experience been so far?