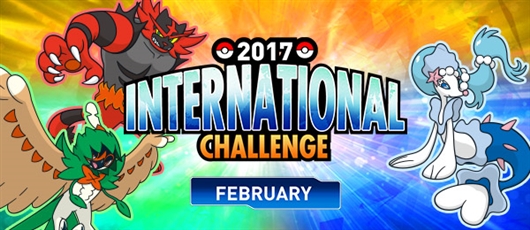 Are you pumped to do battle in the upcoming International Challenge February, trainers? This online competition is available for anyone with Pokémon Sun or Pokémon Moon, a Pokémon Trainer Club membership, and wireless internet connection.
This competition will be in the Double Battle format, so plan accordingly. All Pokémon must also be in the Alolan Pokédex.
Two Age Divisions
Junior/Senior Division: Born from 2002 onward. This division is limited to play only from 6:00AM to 11:00PM in their country's most eastern time zone.

Masters Division: Born in 2001 or earlier.
Sign-Up Period
Begins: Thursday, February 16th, at 7:00PM EST / 6:00PM CST / 4:00PM PST / 00:00AM UTC.
Ends: Thursday, February 23, at 6:59PM EST / 5:59PM CST / 3:59PM PST / 23:59PM UTC.
Competition Period
Begins: Friday, February 24th, at 7:00PM EST / 6:00PM CST / 4:00PM PST / 00:00AM UTC.
Ends: Sunday, February 26th, at 6:59PM EST / 5:59PM CST / 3:59PM PST / 23:59PM UTC.
Results and Participation Prize
The results will be announced in March. All qualified entrants — those who have completed at least three battles — will earn a Mawilite (Mega Stone) and a Beedrillite (Mega Stone).
Rules of the International Challenge February, taken directly from the official website:
"• This competition uses Double Battle format.
• Players may use only Pokémon from the Alolan Pokédex. Only the Alola Form of Pokémon with regional variants can be used.
• Zygarde, Cosmog, Cosmoem, Solgaleo, Lunala, Necrozma, and Magearna cannot be used.
• Mega Stones are not allowed.
• Items are allowed, but Trainers may not have duplicate items in their Battle Team.
• Register three to six of your Lv. 1–100 Pokémon to your Battle Team.
• All Pokémon in this competition will automatically become Lv. 50 for the duration of each match.
• Three of the Pokémon you register to your Battle Team will be chosen to battle in each match.
• A 10-minute time limit for each player will automatically be enforced in-game, beginning at the start of each battle. When a player's time limit expires, that player will lose the game.
• At the beginning of each battle, players have 90 seconds to select three Pokémon with which to battle.
• At the beginning of each turn, players have 60 seconds to select a move or change the Pokémon in battle. If a player has not made his or her selections at the end of this period, the game will automatically make selections for the player.
• Players may battle up to 15 games per day of the competition. Any unplayed games will carry over to the following day. A new day begins at 00:00 UTC."
---
Do you plan on participating, trainers?
Let us know down below! We'd love to hear from you.