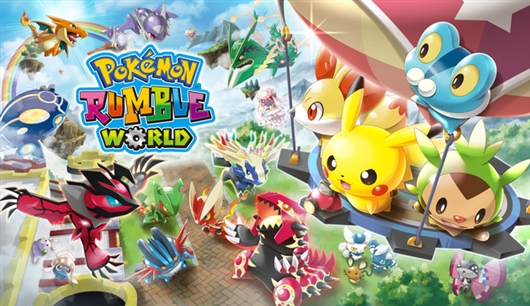 Originally released in November in Japan, the retail version of Pokémon Rumble World is coming to Europe and Australia very soon, on January 22nd and January 23rd respectively. This date was previously announced on December 3rd, 2015.
In the retail version, the micro-transactions in the free-to-play version have been removed, with some adjustments made, detailed below (taken directly from the Nintendo UK site).
The packaged version includes newly reconfigured features such as Poké Diamonds, the Poké Diamond Digger and VIP Cards, whilst removing the paid content component.

Poké Diamonds make your adventures more fun and help you along in your mission to discover Pokémon for the king. After completing the tutorial, visit the shop to receive your allotment of 3,000 Poké Diamonds. In addition, you will also be able to access the Poké Diamond Digger. The Poké Diamond Digger will provide you with 40 new Poké Diamonds every day. Once you obtain 3,000 Poké Diamonds and the Poké Diamond Digger, a special VIP Card feature will open up. There are two VIP Cards, the Balloon VIP Card and the Timing Stop VIP Card and they can be used to more easily voyage through the wonderful kingdom of Toy Pokémon, collecting more Pokémon for the king!
A launch trailer was released yesterday, showcasing the game.
At the time of posting this article, there has been no confirmation of a North American release, but it will most likely be announced at some point in the coming weeks or months.