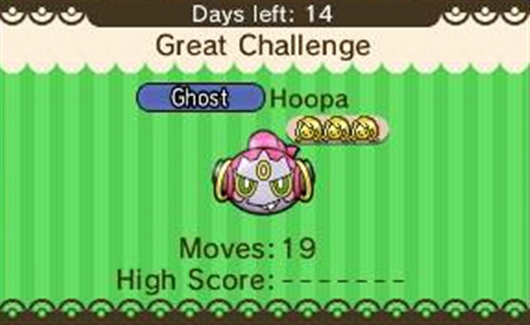 Four new stages have begun on both titles, including a very special Pokémon Safari you won't want to miss!
Hoopa Confined — Great Challenge

(Attack Power ↑ is recommended)
The Mischief Pokémon will be hanging around until July 26th, and its stage requires 400 coins to start. Can you defeat Hoopa Confined in only 19 turns?
Regigigas — Ultra Challenge

(Regirock, Regice, and Registeel are recommended)
Following the appearance of the three Regis — Regirock, Regice, and Registeel — Regigigas has made an entrance. This Pokémon is sure to be a challenge, so bring your strongest allies! Regigigas will depart on July 26th.
Azelf — High-Speed Challenge

(Heracross and Scizor are recommended)
The Willpower Pokémon, Azelf, has returned! With only one minute on the clock, it's a race against time to capture this speedy Psychic-type! The stage will end on July 26th.
Once captured, Azelf may drop an Azelf Skill Booster upon defeat.
Pokémon Safari — Two New Pokémon

(Ground-type Pokémon are recommended)
A new Pokémon Safari has opened up until July 26th. Each time you enter the safari, you will discover a different Pokémon — because of this, you may not utilize the Optimize feature.
Two special Electric-types have made an appearance this time, so be sure to pick them up!



Electrike




Manectric




Darumaka




Darmanitan




Stantler


**Winking**
Pikachu




**

Winking

**
Raichu
---
Will you be going after any of these stages? Have you managed to beat the Regigigas Ultra Challenge?
Let us know in the comments below!