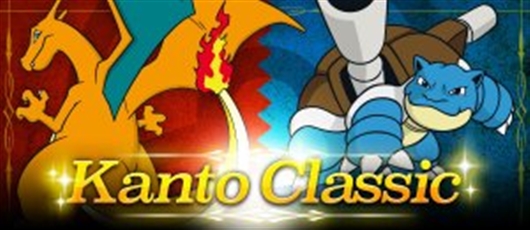 Available for anyone with wireless Internet connection, a Pokémon Trainer Club membership, and Omega Ruby or Alpha Sapphire, the Kanto Classic competition is coming this March. This is your chance to battle with the original 151 Pokémon (minus Mew and Mewtwo)!
Those who are qualified and complete at least three matches will receive a special Dragonite; this powerful dragon has the ability to use Barrier — just like Lance's Dragonite from Pokémon Red and Blue! Barrier is a move Dragonite cannot learn normally, so don't miss out!

Dragonite
Level: 62
OT: Lance
Ability: Inner Focus
Moves: Barrier, Agility, Slam, Hyper Beam
The Two Age Divisions
Junior/Senior Division: Born from 2001 onward. This division is limited to play only from 6:00AM to 11:00PM in their country's most eastern time zone.

Masters Division: Born in 2000 or earlier.
Competition Rules
The rules of the Kanto Classic competition, taken from Pokémon Global Link's website, are as follows:
• This competition uses Single Battle format.
• Players may use Pokémon with National Pokédex number 1 through 151, with the exception of the following: Mewtwo and Mew.
• Pokémon brought over from Pokémon Black, Pokémon White, Pokémon Black 2, or Pokémon White 2 via Poké Transporter may participate in this competition.
• Register six of your Lv. 1–100 Pokémon to your Battle Box.
• All Pokémon above Lv. 50 in this competition will automatically become Lv. 50 for the duration of each match.
• All six of the Pokémon you register to your Battle Box will be used during each match.
• Held items are not allowed.
• A 60-minute time limit for each match will automatically be enforced in-game, beginning at the start of each battle. If the outcome has not been determined when the time limit expires, the game will automatically apply tiebreakers to determine a winner.
• At the beginning of each battle, players have 60 seconds to select six Pokémon with which to battle.
• At the beginning of each turn, players have 60 seconds to select a move or change the Pokémon in battle. If a player has not made his or her selections at the end of this period, the game will automatically make selections for the player.
• Players may battle up to 10 games per day of the competition. Any unplayed games will carry over to the following day. A new day begins at 00:00 UTC.
• For additional details, please come back to check the competition's regulations page when registration opens.
Sign-Up Period
Begins: Thursday, February 25th, at 7:00PM EST / 6:00PM CST / 4:00PM PST / 00:00AM UTC.
Ends: Thursday, March 3rd, at 6:59PM EST / 5:59PM CST / 3:59PM PST / 23:59PM UTC.
There is a 50,000 player participation limit, which is subject to change, so sign up as early as you can! You must sign up in between these times to participate.
Competition Period
Begins: Friday, March 4th, at 7:00PM EST / 6:00PM CST / 4:00PM PST / 00:00AM UTC.
Ends: Sunday, March 6th, at 6:59PM EST / 5:59PM CST / 3:59PM PST / 23:59PM UTC.
Results will be announced in March of 2016.
---
Do you plan on competing in the Kanto Classic in order to obtain that special Dragonite? Let us know in the comments below!